Water Damage Restoration
Elgin, IL!
✓ On our way in 1 hour or so
✓ Free Pre – Inspections
✓ We're a family-owned business
✓ We bill directly to the insurance
✓ 24×7 Emergency Services

Water damage creates danger situation in your house. It also causes severe damage to your property. So, it is always advisable to restore the water damage situation as soon as possible. To reduce your worries, we at Total Solution Cleaning & Restoration, LLC serve you 24/7 water damage cleanup services at your home.
However, our professionals prefer to use the latest portable dehumidifiers and air movers to dry the water. We remove the water from your place and help you with water damage remediation services. Stagnant water brings a lot of mold and bacteria into your house. Removal of such dirty water is much needed.
How Do We Stand Unique From Others?
Use powerful tools and methods to remove the dirt, stains, and other contaminants from your house.
Our company provides quick and efficient water damage restoration service.
Ensure to eradicate mold, mildew, and germs from the affected area after proper cleaning and sanitizing the surface.
Have highly trained, IICRC certified, and licensed professional staff.
Types of Services We Offer

Our team is available 24/7 to assist you in recovering your property with water damage restoration in Elgin, IL.

Our 24/7 accessible fire damage restoration experts mitigate, plan, and repair damages on your property.

Got dirty carpet? Don't worry. Our carpet cleaning service experts deep cleans and restores the beauty of your carpet.
Is your upholstery stained? Consult our upholstery cleaning experts to remove stains and bring a newly bought feel to it.
Tile, Grout, and Hardfloor Care
Our team of tile, grout, and hard floor experts got you covered for any floor-related issues.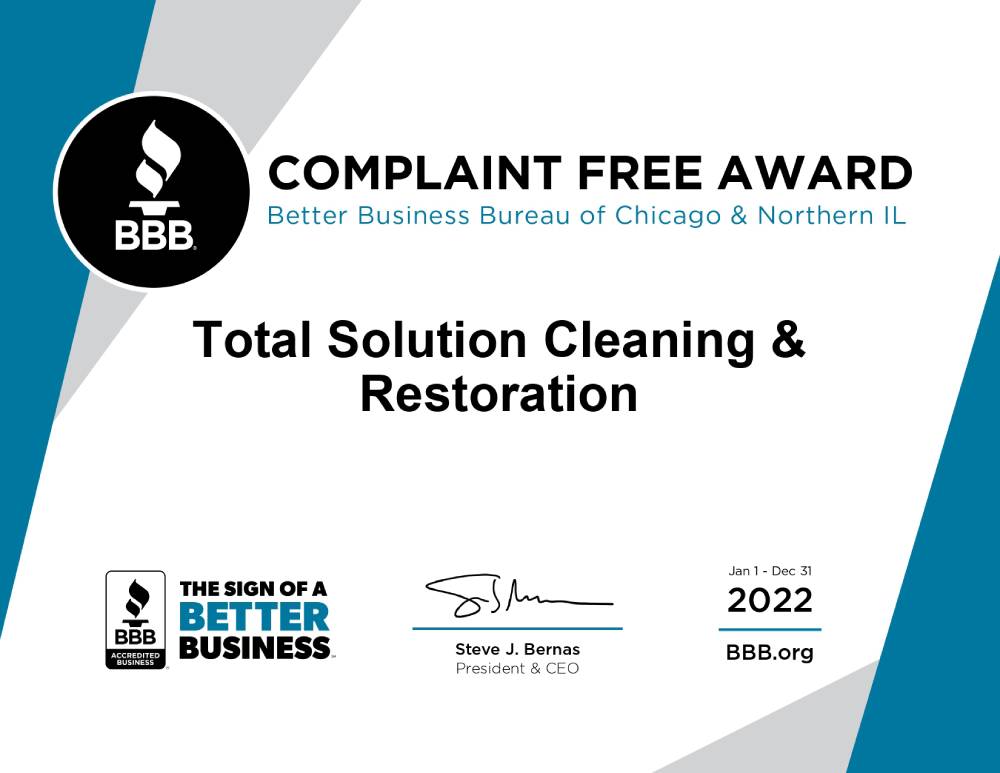 IICRC Certified Water Damage Restoration Elgin IL
Total Solution Cleaning & Restoration, LLC is one of the leading providers of water damage restoration Elgin location. Cesar Jonas Tello is the owner who is skilled enough to deal with all types of water damage situations. Also, he earned a certification as a technician for water damage restoration of his skills and knowledge.
Moreover, the company is into the industry for 20 years and has a professional staff who are trained and knowledgeable to restore your damaged property from water in the best way. We use the best quality humidifiers to dry the water and even remove the mold or bacterial growth from your house while cleaning.
The experts at Total Solution Cleaning & Restoration, LLC use high-grade equipment that is portable and eco-friendly cleaners to remove all germs caused due to water damage. We keep your safety as our top-most priority.
Our Quality Cleaning And Restoration Work
Our Water Damage Restoration Process:
We arrive at the site in like an hour or so.
Free Pre-Inspection of the damage.
Categorize damage between Cat#1, Cat#2, Cat#3 and discuss the cleaning process with the customer
CAT#1: This is when water comes from the sink or faucet.
CAT#2: This is when pipes freeze, Brock and water go through debris, drywall, insulation, etc.
CAT#3: This is sewer water or blackwater, which is the most serious state of water damage.
Note: CAT#1 can reach CAT#3 if not treated by professionals within 72 hours of damage.
Help and guide customers to communicate with their insurance company.
We remove all affected areas.
We use Drying equipment like Air Movers, Dehumidifiers, and Air scrubbers, to prevent further damage.
Deeply remove bacteria or mold from the affected area. Also, perform Disinfecting and Sanitizing process.
Repairs Scope of Work & Estimate and check the insurance pays the right amount for remodeling.
Complete Build Back and make sure the customer is happy.
24/7 Emergency Water Extraction
Being a licensed, insured, and IICRC certified water damage repair company in Elgin, IL.
Provide 24/7 emergency help for water and fire damage restoration with quick and prompt service to save your valuable property.
We use high-grade equipment and tools with green cleaning solutions to ensure our client's safety against harsh chemicals and germs.
Our 5-Star Cleaning Reviews
David Brumfield


"This company came and cleaned our carpet at our new Center in Elgin. This place sat for about 3 1/2 yrs. Empty. They came and cleaned the carpet and it practically looks brand new!! They were very professional and honest with our Pastors. They are worth the money and they gave us a great price!!"
Ronald Sistrunk


"Total excellence!!!! They did an industrial cleaning for us, and they got everything, from overheads and ceilings, to the massive sized carpet that we have, and they were great!!! Very professional and courteous, with great attention to detail!! I highly recommend Total Solution Cleaning!!!!!!"
All In One Services For Water Damage Repair Elgin IL
We are a reliable and trusted water damage repair company with a happy customer base in the area. Therefore, we know better how to save you and your belongings from water damage. Here is the list of facilities you will receive from our water damage restoration services in Elgin, IL.
Emergency Services
Total Solution Cleaning & Restoration, LLC is available 24*7 to handle your fire and water damage restoration needs.
Complete Repair and Replace
During the pre-inspection process, we identify potential damage to your property to repair or replace them if needed.
Satisfaction Guaranteed
We understand the importance of your money. Hence, we always deliver highly satisfactory results and restore your property to its best condition.
100% Water Damage Carpet Restoration
If you call us as soon as you face water damage, we will 100% restore your water-damaged carpet to its original state.
Ask us about Turbo Drying!!
We use our turbo Air mover to dry faster than usual time or something like that.
Are You In Need Of Hire Water Damage Repair Services?
For getting the top-notch water damage repair services in Elgin, look no further than Total Solution Cleaning & Restoration, LLC.